Hillcrest Heights Airport Transportation
Hillcrest Heights MD to DCA | Hillcrest Heights MD to BWI | Hillcrest Heights MD to IAD Airport
Get A Quote
Hillcrest Heights Limo Car Service
Need a car service in Hillcrest Heights? Pit Drives offers first-class ground transportation services 24/7.
Book Online
Hillcrest Heights Car Service
Welcome to Hillcrest Heights Car Service, a private car service. Sedan Service has provided clients with a luxurious airport and non-airport ground transportation for many years. We're proud of our commitment to excellent service, and our luxury vehicles are at your disposal for the journey. Our goal is to please our customers, from the little things like making sure your car door opens for you to the more critical stuff like showing up on time and in a clean, comfortable vehicle. Chauffeurs are highly trained and have had years of experience driving in the local area and also undergo random drug and alcohol screenings and background checks before being a part of our team. We're a chauffeur service company in Hillcrest that cares about customer satisfaction, and the entire team strives to make regular and occasional customers happy.
If you're looking for the perfect corporate car service for Hillcrest Heights. We offer luxury, comfort, and privacy at a reasonable price. We are proud of being considered a reliable, punctual, and dependable travel partner to the business community in Hillcrest Heights. If you are looking for a reliable airport car service. We provide inexpensive transport from Hillcrest Heights to DCA, Hillcrest Heights to BWI, and Hillcrest Heights to IAD. It's essential for your safety that you feel entirely confident in the level of security of our vehicles. We only use late-model cars, and our mechanics inspect them frequently to ensure safety and comfort. Whether you are a vacationer visiting DC from out of town, a businessman/woman out on a corporate trip, or a resident heading to the local airports (or others), we can provide the best ground transportation to and from your destination in the area!
Hillcrest Heights MD to Washington DCA Airport Limo Black Car Service
Premier International Transportation service offers you the best ground transportation experience in the luxury Sedan, Black Suburban SUV, and Sprinter van service in and around Washington, Dulles, and Baltimore.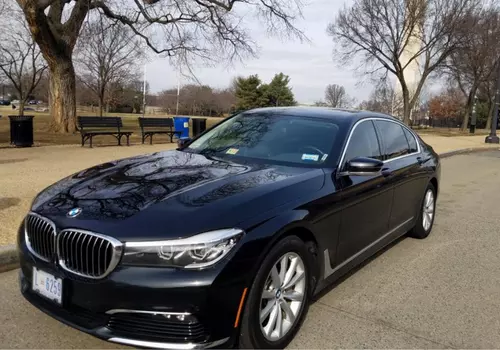 BMW 740i
Insured, leather interior, air conditioning, rain sensor, panoramic roof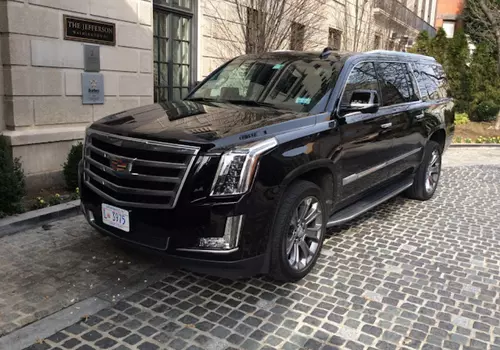 Cadillac Escalade
Insured, leather interior, air conditioning, rain sensor, panoramic roof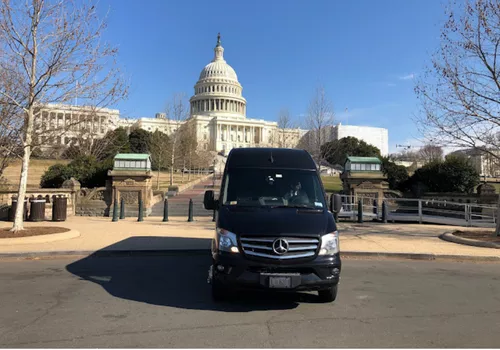 Sprinter Van
Insured, leather interior, air conditioning, rain sensor, panoramic roof
Hillcrest Heights MD Limo Service
Are we looking for a limo service in Hillcrest Heights? Let us take you to your destination in style. We provide limo rental to all cities in Maryland, including Hillcrest Heights. We've been in business for many years, and have lots of experience transporting people to and from their destinations. Premier International Transportation has the best customer service and is the best choice for a limousine rental. We employ only the best, friendliest, and brightest staff members who are always friendly and know what our customers need and want. We are proud of ourselves for delivering better services to our clients, specializing in airport limo service, business trips, city tours, and special occasions. We'll get our drivers to pick you up, day or night. If your flight is delayed, they will wait for you at the airport. They will take you to your destination and do it in style. This is the level of service our clients generally expect from one of the best limousine services in the area. We provide the ultimate level of luxury transportation at a competitive rate. We've built an incredible reputation for service quality and a commitment to excellence. Our limo service offers maximum satisfaction, ensuring superior and distinct performance. We are the most trusted limousine service in town. All of our services are guaranteed to ensure that they will exceed your expectations; whether it is a prom limo service or wedding transportation, you will have a pleasant and memorable experience. Just some of the services we provide include:
Things To Do In OR Near Hillcrest Heights MD
Wineries and Breweries near Hillcrest Heights MD
Hillcrest Heights MD Ground Transportation