Best Transportation to Dulles Airport
Transportation from Dulles to DC
Dulles is home to the most popular airport in the world – IAD, which features more airlines, longer flights, and faster connections than any other airport in the US. When you need a ride to or from IAD Airport to DCA or within the Washington DC area, go with us for transparent fares and fast, reliable service. If you're looking for affordable, convenient, and safe Dulles airport transportation, we offer a wide variety of services from IAD to DCA | IAD to BWI and vice versa. Our Dulles airport car service is convenient and low-cost for those looking to save money. Our friendly and professional drivers will get you to and from Dulles airport safely and on time. We provide IAD ground transportation throughout Dulles and Virginia, including service to residences, hotels, businesses, marinas, cruise terminals, and more. The benefits of our service include the following:
Timeliness and reliability of services

Comfortable and well-maintained vehicles

Reasonable fares and payment options

Good customer service and support

Minimal disruptions or delays during trips
So, when getting to Dulles Airport, avoid the taxi line. Instead, hire transportation IAD to pick up at Dulles Airport. Professional Private Chauffeurs will pick you up right on time in one of our luxury vehicles so that you can enjoy your stay in the Dulles area.
Dulles Airport Transportation to Washington DC
Premier International Transportation service offers you the best ground transportation experience in the Executive Sedan Service, Black Suburban SUV and Sprinter van service in and around IAD Dulles, VA.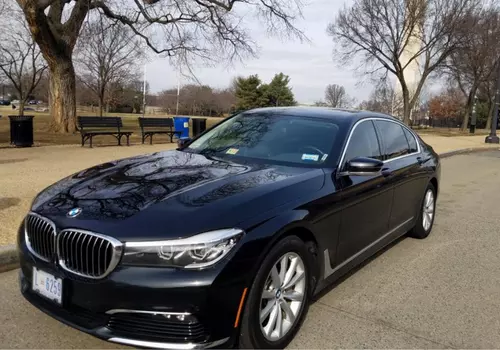 BMW 740i
Insured, leather interior, air conditioning, rain sensor, panoramic roof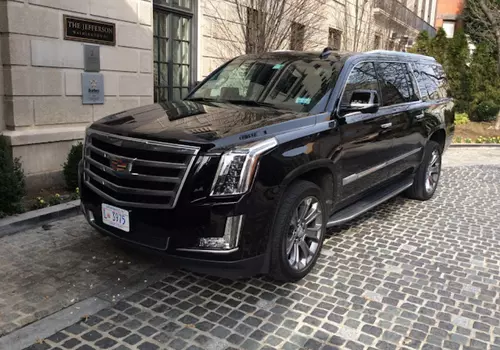 Cadillac Escalade
Insured, leather interior, air conditioning, rain sensor, panoramic roof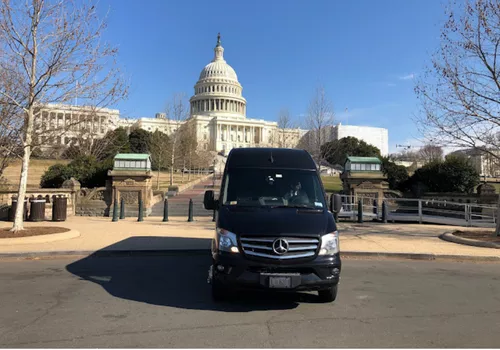 Sprinter Van
Insured, leather interior, air conditioning, rain sensor, panoramic roof
IAD Ground Transportation
You need an IAD airport transportation service that's reliable, and that's what we deliver. Safety, dependability, and unequaled customer experience are our service standards. Premier Internationa Transportation is the cheapest Dulles airport transfer service available. Dulles limo service maintains every vehicle in flawless mechanical condition, and each is fully inspected daily. Our fleet of vehicles is a late model and very reliable for all your traveling needs, anytime. Transportation to Dulles aims to ensure a pleasant ride from beginning to end. We also offer an affordable executive sedan for all your corporate travel needs. If you want to reach the IAD Airport on time, keep public transport from getting in your way. We're committed to making your travel more accessible, more affordable, and a lot more fun. If you plan to visit the DC City tour or winery tour with your family or group of friends we can accommodate any size of people. A professional and experienced driver will meet you at your location and drive you anywhere without the hassle of parking for a long time. To avoid taking the hassle of city traffic rules or finding a good parking spot when flying to Dulles, the Dulles airport pickup is a great way to get around. We know the value of your time, so we're always on time to reach the pickup point.
IAD Airport | IAD to DCA | Dulles Airport Shuttle | Dulles Airport to Washington DC | Dulles Airport Transportation | Dulles to DC | IAD to BWI | Transportation to Dulles Airport | IAD to Washington DC | IAD Airport to Washington DC | IAD to DC | Best Transportation to Dulles Airport | Dulles Transportation | Dulles to BWI | Dulles to DCA | Transportation from Dulles to DC | Dulles Airport to Reagan Airport | Dulles to Washington DC | Dulles Airport Pickup | Dulles to Reagan Airport | IAD Washington DC Airport | IAD Transportation | IAD to Downtown DC | Dulles Airport to National Harbor | Dulles VA to Washington DC | Dulles International Airport to Washington DC | Dulles Airport to DC | Dulles DCA | IAD to DCA Transfer | IAD Airport to DCA Airport | Dulles Ground Transportation | Dulles to Downtown DC | Dulles Airport Ground Transportation | Getting from Dulles to DC | Home to Dulles Airport | Airport Transportation Dulles | IAD Ground Transportation | IAD DCA | IAD to Dulles | Dulles Airport Drop off | Transport to Dulles Airport | Transportation Dulles | Ride to Dulles Airport | Transportation from IAD to DCA | IAD Airport to Baltimore | Home to IAD | IAD to White house | Transportation from DC to Dulles Airport | Getting to Dulles Airport | Dulles Airport Transportation to DC | Transportation from Dulles Airport | Dulles Airport Transport | Transportation to Dulles | from Dulles to Washington DC | Getting to Dulles from DC | Transportation Dulles Airport | Transportation to IAD | Dulles International Airport Transportation | Airport Transportation to Dulles | Transportation to Dulles Airport from Baltimore | Picking up at Dulles Airport | Dulles Airport to Maryland | Dulles airport to Downtown DC | Dulles to DC Transportation | Dulles Airport to the White house | Dulles Airport Transfer | Transportation to Dulles Airport from DC | Transport to Dulles | Dulles Airport Transportation Services | IAD Airport Transportation | Transport IAD to Washington DC | Transport from IAD to Washington DC | Transfer from IAD to DCA | Transportation IAD |