Bladensburg Airport Transportation
Bladensburg MD to DCA | Bladensburg MD to BWI | Bladensburg MD to IAD Airport
Get A Quote
Bladensburg Limo Car Service
Need a car service in Bladensburg? Pit Drives offers first-class ground transportation services 24/7.
Book Online
It makes excellent sense to visit Bladensburg, MD city most impressively. With Bladensburg Car Service, you don't need to worry about the long wait in the taxi queue, car parking, or public transport's economic seating. We provide you with the most unique and magnificent chauffeured car service and treat you with the extraordinary throughout your journey. Whether traveling to Bladensburg for business or pleasure, book your travel with a black car service at the time of arrival. There's nothing better than a private car service from the airport. We offer airport car service from DCA to Bladensburg, IAD to Bladensburg, or BWI to Bladensburg. You can be sure of a smooth and easy ride. We are a very trustworthy and prompt chauffeur-driven fascinating car rental service on the streets of Bladensburg, MD. Sedan Service offers impeccable transfer service with our extensive range of high-end luxury vehicles, including sedans, SUVs, and luxury sprinter vans.
We assure you of the most fantastic experience throughout your stay in Bladensburg. The best in class town car service, whether you are attending a wedding ceremony, bachelor's party, prom night, or any other occasion. Premier International Transportation is concerned with providing a fantastic car rental service with professional and talented drivers and cars with the prime respect of utmost customer satisfaction. Our executive car service is a well-known transportation service provider in Bladensburg. We offer the highest level of luxury vehicles and provide the best service. We are focused on customer service, which we take pride in. It's our top priority. Our talented ground staff focuses on providing exceptional customer-centric service to enhance the excitement of traveling with us.
Bladensburg MD to Washington DCA Airport Limo Black Car Service
Premier International Transportation service offers you the best ground transportation experience in the luxury Sedan, Black Suburban SUV, and Sprinter van service in and around Washington, Dulles, and Baltimore.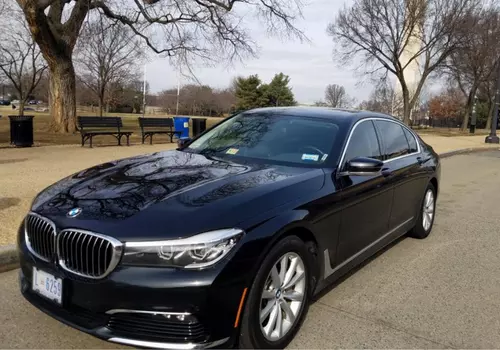 BMW 740i
Insured, leather interior, air conditioning, rain sensor, panoramic roof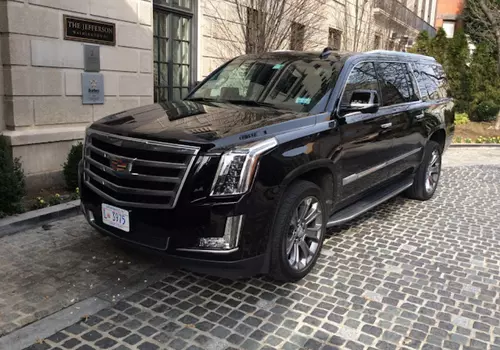 Cadillac Escalade
Insured, leather interior, air conditioning, rain sensor, panoramic roof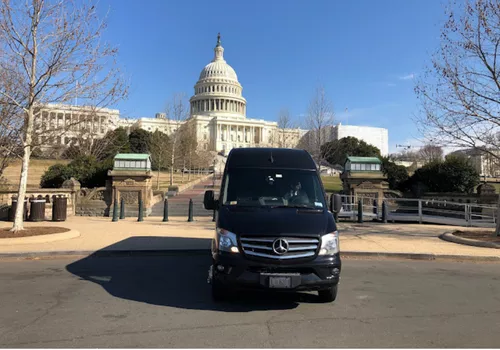 Sprinter Van
Insured, leather interior, air conditioning, rain sensor, panoramic roof
Bladensburg MD Limo Service
If you plan to visit Bladensburg, MD, for your next vacation, you should book your airport limo service well in advance. That way, you will have a stress-free trip to the city. When renting a limo from us, you get an exclusive ride on the most impressive fleet to witness the city's delicacy. We have been around for decades, and we are always reliable. It's good that you have us here to give you a comfortable and stress-free ride. You'll get all the luxury and fun without breaking your budget. So to avail the most cordial and generous ride from BWI / DCA / IAD to Bladensburg, book our airport transportation to help you get to every street within the most affordable price range. With us, you can show off your style, captivate the attention of people around you, and get from the airport to your destination in style. We're committed to providing the most reliable and punctual limo rental service in town.
We provide the most comprehensive service with an extensive range of vehicles and the best customer service. If you're traveling to Bladensburg, MD, with a group of family or friends, our affordable limousine can accommodate everybody together without splitting in two. Our clients come from around the world. Our company provides reliable and trustworthy limo service in Bladensburg, MD, for business travel or vacation. Whether you are in Bladensburg for a wedding, city tour, or wine tour, while you reserve our Bladensburg Limo Service, our dedicated customer care executive will get in touch with you to understand your expectations and requirements in detail. We follow the approach of being a customer-centric service provider, thus keeping client satisfaction a top priority.. Just some of the services we provide include:
Wineries and Breweries near Bladensburg MD
Bladensburg MD Ground Transportation