Car Service to Dulles Airport
Premier International Transportation is your go-to company when you need to hire a car service to Dulles airport. We offer high-quality and user-friendly car service IAD to clients leaving or arriving at Dulles Airport. Our luxury and diligent Dulles Airport car service is specifically customised to fit every travel need, ensuring the journey is completely joyful and memorable.
Our IAD airport transportation takes your time and needs into account to deliver a robust, prompt, and reliable car service to Dulles Airport. We monitor your flight all the way, and before your plane touches down on the runway, We are already there at the airport terminal waiting to pick you up. Even if you are late, you'll find us waiting for you. Chauffeur services have become a necessity in today's society. We're happy to have your business, and we hope you'll consider us for all your transportation needs.
Car service Dulles has a fleet of modern vehicles made up of the best brands and latest models available at your service. Check out our luxurious Black Suburban SUV and Exclusive Sedan. We also offer services to other airports from IAD to DCA | IAD to BWI and vice versa. Our vans and coach buses are designed to take care of your group's needs.
The benefits of having car service IAD Airport includes:
Safe driving

Best prices ever

Enviable modern fleet
Dulles Airport Car Service IAD Car Rental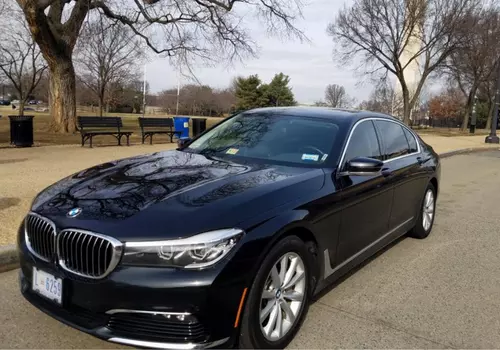 BMW 740i
Insured, leather interior, air conditioning, rain sensor, panoramic roof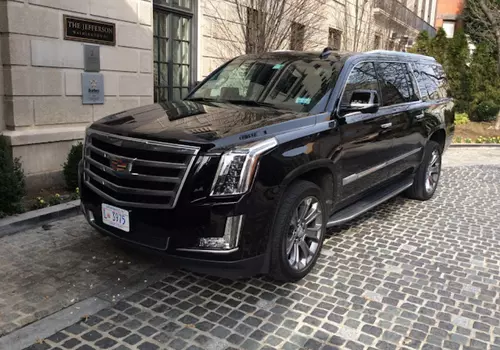 Cadillac Escalade
Insured, leather interior, air conditioning, rain sensor, panoramic roof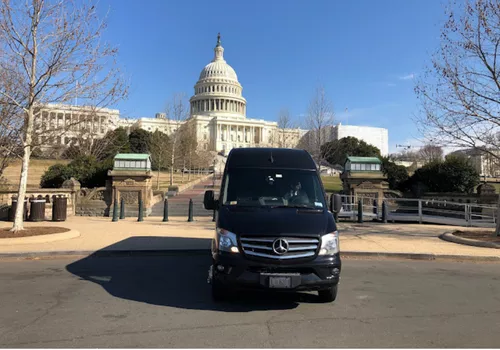 Sprinter Van
Insured, leather interior, air conditioning, rain sensor, panoramic roof
More than 60,000 passengers from around 125 destinations pass through the airport every day. Imagine how many people would be searching for a rental car once they arrive at the airport. Whether you're flying into Dulles Airport for a short break or a longer stay, you can take the stress out of your onward journey by hiring a Dulles airport car service. It's quick and easy to hire, and you'll also save money on a range of different types of vehicles. Instead of relying on public transport to and from Washington Dulles, you can get out of the plane and drive to your destination straight away. No more struggling to get your suitcase on an overcrowded bus.
IAD car rental is relaxing, and you don't have to involve a lot of hassle. Delivering award-winning, great value car service from DC to Dulles for over 20 years, and backed by many experienced drivers, Booking with Premier International Transportatin is fast, easy, and reliable. We provide the best car service IAD Airport. There are no hidden charges or fees. You will never find cheaper rentals than ours. One of our top priorities is to make sure our Dulles airport limo service meets all of our customers' needs.
We offer a variety of options of vehicles to enhance your experience, always according to your necessities, and help you get the best out of your vacation tour or your business trips. With over 10 years in the business, We have provided millions of rental car from IAD customers with the best possible guaranteed price for their car rental.You're welcome to become our next satisfied customer.
IAD Airport | IAD to DCA | Dulles Airport Shuttle | Dulles Airport to Washington DC | IAD to BWI | IAD to Washington DC | IAD Airport to Washington DC | IAD to DC | Dulles to BWI | Dulles to DCA | Dulles to Washington DC | Dulles Airport Pickup | IAD Washington DC Airport | IAD to Downtown DC | Dulles VA to Washington DC | Dulles International Airport to Washington DC | Dulles Airport to DC | IAD Airport to DCA Airport | Dulles to Downtown DC | Getting from Dulles to DC | Home to Dulles Airport | IAD Car Rental | Dulles Car Service | IAD Rental Car | Dulles Airport Car Service | Rental Car from IAD | IAD to Washington DC | Car Service to Dulles Airport | IAD Car Service | Car Rental from IAD | Car Service Dulles Airport | Car Service to Dulles | Car Service Dulles | Car Service Dulles Airport to Washington DC | Car Service from Dulles Airport | Car Service Dulles to Baltimore | Washington Dulles Airport Car Service | Car Service to Dulles International Airport | Airport Car Service Dulles | Car Service Dulles to DC | Car Service Washington Dulles | Car Service DC to Dulles | Car Service to IAD | Car Service IAD Airport | IAD Car Rental Companies | Car Service IAD |